Pillars of Rohatgi Community
Rohatgi trust, school and Dharamshala would have not been established without the support and sacrifice of our ancestors. These are pillars of our community. They were experts in their field and give a contribution to the betterment of the community. We will be always thankful for their support.
He was a cloth businessman and the founder of Rohatgi School about 100 years ago in 1910. He worked very hard for the upliftment of school. He also founded the "Harishchandra Library" in Bazar " Dariba Kalan" Delhi. This all has happened when the city Delhi was unsolder the strict control of Britishers and the preparations of "world war -1" were underway.
Ram Kishore Rohatgi was born in 1918. He was from Farrukhabad, Uttar Pradesh. He was a cloth trader. He came to Delhi to improve his financial status and sell clothes in Delhi. Later on, he established a cloth shop under the name Sh. Chhotey Lal Ram Kishore. He gives contribution to the management of Rohatgi trust and Rohatgi school. On 26 December 1969 he changes the name of trust from "Rohatgi religious society" to "Rohatgi charitable trust" with the collaboration of other members of the trust. He was expired on 6 January 1979. We will never forget his contribution to Rohatgi Community.
He was born on 10 February 1923. His father was Sh. Gulzari Mal Rohatgi was a prosperous cloth trader in Chandni Chowk. Sh. Awadh Bihari Rohatgi was a brilliant student he passed out LLB in the first position from Delhi University in 1946. He was appointed as a lawyer in high court Delhi and Supreme Court of India from the year 1947 to 1972. Indian Government has appointed as judge of Delhi High-court in 1972. He spends 25 years of his life in law and as a part-time lecturer. At starting of the year 1950 he connected to the "Rohatgi Charitable Trust" as a management member and was given financial help for the growth of the school several times. On 27 April 2013, he has taken his last breath. The whole Rohatgi community is thankful for his contribution.
Everyone knows his name in India. He is a well-reputed and talented advocate of the Supreme court. He was appointed as an attorney general of India on 12 June 2014. He was the 14th attorney general of India and hold this position till 30 June 2017. He is the son of Sh. Awadh Bihari Rohatgi. In 1999 he was an additional solicitor general of India in N.D.A government of Sh. Atal Bihari Bajpayee. The whole Rohatgi community feel proud of him and his contribution to our country.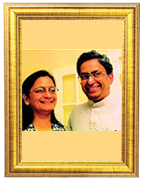 Smt. Rashim Rohatgi and Umesh Rohatgi
They both are the most ardent and dedicated social workers and best-known personalities both in India as well as in the USA. Originally belonged to Bareilly and after IIT degree from Kharagpur in India migrated to the USA for establishing a professional career. Umesh Rohatgi is the son of Smt. Kailash Rohatgi. He has spent a quite huge amount helping down-trodden various social and educational institutions. To Rohatgi's trust, he has financially helped with a promise to continue his help in future also. We extend our heartful appreciation and thanks to them on the behalf of Rohatgi community.
She is the daughter of cloth trader Sh. Hariram Rohatgi. At the age of 16 years in 1939, she has passed out Hindi paper with the first position. Later on, she was married to Sh. Baburam Rohatgi in Bareilly. When she comes to know about the celebration of completing 100 years of school through the trust, then she decided to donate Rs. 5 lakh to the trust from her savings. We will always be thankful for her donation for welfare.
He was from Kanpur. He has done M.B.B.S from King George medical college, Lucknow. First, he has worked as a civil doctor later on he started practising without charging any fees at Bhagirath palace in Chandni Chowk, New Delhi. He gave the idea to start a trust under the name "Rohatgi dharmik and sakshinik trust". He also taught biology to the students in school. He passed away in the year 1972. We will never forget his contribution to the Rohatgi community.
He is the regional secretary of the national sports club of India which is situated in Pragati Maidan, New Delhi. He is also a special associate of Rohatgi charitable trust. The club has been renovated under his supervision for the kids and members. The club is completely computerised and has a kids zone. It is fully air-conditioned and also has a swimming pool. The club has three badminton courts and one basketball court the cricket academy is started again. About 7 crores have been spent on these facilities.
She is the shining pride of Rohatgi's. She was born in 1996, the daughter of Brij Kumar Rohatgi and Urmila Rohatgi. She had done her schooling in New Delhi and later went to LHMC (Lady Hardinge- New Delhi) for MBBS and to Safdurjung hospital, New Delhi, for DGO. In October 1992 UPSC has selected her to work in the "school health scheme" of the Delhi government. In 1997 she was posted in Sardar Vallabh Bhai Patel Hospital, New Delhi. She efforted to start a colposcopy centre in Obst. and gynae department for screening of cervical cancer. In 2007 she was promoted to the prestigious post of Deputy Medical Superintendent of Safdar Vallabh Bhai Patel Hospital, New Delhi. Since then all these years she is working for the upliftment of the hospital.
Principal Sh. S D Sharma (1933-1967) served the school for a very long period of 34 years and carried out numerous memorable improvements in the school during his tenure. He was dedicated to the teaching profession from the core of his heart. His technic of teaching was very much attractive to the young students. His contribution to the school will never be forgotten.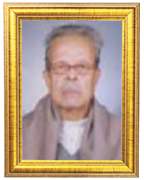 Sh. Kunwar Kishan Rohatgi
He was a member of the Rohatgi school management. The construction work of the Bhawan was done under the supervision of Sh. Kunwar Kishan Rohatgi. The second floor of Bhawan has a modern kitchen which can be used for marriages and small functions. A market has been established on the ground floor. Since 1970 he was connected even at the age of 80 years for the welfare of Bhawan. We can't forget his contribution to the community. He took his last breath on 20 September 2008.
He was born on 30 April, 1938 in Delhi. In 1974 he established a factory for manufacturing the electric wires under name national cables. He always did the work for the betterment of Rohatgi community. Between 1990-2000 he had given Rs. 1 lakh 20 thousand to create a big hall in Rohatgi Bhawan. He took his last breath on 3 Dec 2002. We will never forget his contribution to our community.
Sh. Raadhelal and Kanhaiya Lal Ji
They both were brothers and we're cloth traders in Agra. In 20th century he came Delhi from Agra. He lived in the Rohatgi hotel Bhawan, kinari Bazaar, Delhi. During the second world war due to the recession, he motivated other Rohatgi families to start cloth trading so that this will increase their income.
He was the son of Sh. Kanhaiya Laal Ji. He was very popular and always ready to help others. He has his connections in the government sector, police and in court due to his nature. He believes to be always with everyone. During the decade of 1969-1970, there were some issues in the construction of Rohatgi Bhawan. His family helped in the construction. He died in 1990, in Delhi. We never forgot his work towards our community.
He was a dynamic and versatile personality. He was the first qualified doctor of Delhi and started his practice in 1932. He has also conferred that prestigious degree of MRCGP from the London royal college of practitioners. A topper and gold medalist, he was elected as the president of the Delhi Medical Association for two terms. He was the son of Lala Gulzari Mal Rohatgi, born in 1909. He topped all his examinations to gain a merit position and entry to the prestigious King Edward medical college, Lahore now in Pakistan. He was also one of the board of governors of kalawati saran children's hospital. He was conferred the degree of F.C.G.P by the Indian Medical Association. He was so devoted to his profession that he served his patients till his last day October 30, 1999.
He was the brother of Dr Prem Narayan Rohatgi. He was inspired by his brother so he chose the medical profession. He was born on 20 April 1920. After completing his schooling at Rohatgi school he has joined his father's business of woollen and clothes in Chandni Chowk, New Delhi. He was married at the age of 23. After seeing the work performance of his elder brother, he was so inspired and decided to choose the medical profession. He joined pre-medical at Formen Christan college, Lahore in 1939. He has taken his full medical degree in 1947 from Agra Medical College. He was elected to the prestigious telephone advisory committee for three consecutive terms between 1950 and 1960. In late 1969 he was elected as president of the Delhi Medical Association. He was soft-spoken with a dynamic personality. He was also a morning walker and a regular badminton player. At the beginning of his career, he worked as a junior Dr. in the clinic of Dr Prem Narayan at Nai Sarak In New Delhi. In 1951 he established his clinic at Nai sarak and remained active for the next 55 years. He took his last breath on 7 Jan 2011.
He was born in 1918 and was the younger brother of Sh. Raadhey Lal Rohatgi. At the age of 18 years, he started working in a city shop in 1936 which was driven by Delhi cloth mills. During his job, he engaged as a social worker in the Rohatgi school and Rohatgi charitable trust. He was the manager of these institutions and helped them financially. He gave his contribution to the opening of an allopathic free dispensary. In 1970 he retired from the city shop from the post of manager and started his own cloth business. He died at 64 age in 1982.
Sh. Lala Naval Kishore Rohatgi
He was born in the year 1913 and joined the cloth business at the age of 12. Due to his versatility and philanthropy, he is remembered today in the cloth market. He was married to Kanti daughter of Sh. Shiv Narayan Rohatgi at the age of 14. He was connected to the Harishchandra Sabha Badha Vali Kothi as a volunteer at a very young age. From their, he got interested in the social work of the Rohatgi community. He always wanted to create a phone directory in which all the Rohatgi family is mentioned, his dream got true. He died on 26 December 2005.
Sh. Prakash Narayan Rohatgi
He was born on 13 October 1931 in the family of Sh. Prakash Narayan Rohatgi. He participated in the Bhartiya swantranta Andolan during the study of M.A and L.L.B in Delhi university. He planned to start his practice in Delhi after the law but due to family circumstances, he had to handle the family cloth business. Later he became a member of the Delhi Markantiles Association. He gave his contribution to Rohatgi school and trust. In 1969 he helped to change the name of Rohatgi trust. He established a factory in the year 1976 under the name Pradeep Metal Works. He died on 12 August 1986. A street has in Chandni chowk is popular with the name-Gali Prakash Narayan.
He was born in 1924. He was married to Kumari Urmila the daughter of Sh. Naval Kishore Rohatgi. After getting the degree of graduation in Science from the Hindu College, New Delhi, he has done LLB. Due to the sudden death of his father he had to handle family cloth business. He was connected to the social work since his college time. For 30 years he was connected to the high level activities of Delhi University. Due to his versatile talent he was nominated in the various governing body of many colleges. He visited Malaysia and Kuala Lumpur to participate in seminars as a representative of the university. He contribute and worked for the improvement and spread of education in Rohatgi School, B.N Rastogi School, Rohatgi Bhawan and Rohatgi Charitable Trust. He was died in October, 1986 in a road accident.
He was an efficient administrative manager and a working social worker. After completing his education, he was appointed as a ticket collector in Railways. During his five years of working period he was the president of Northern Railway Labour Federation. After retiring he completely joined the Rohatgi community and its organisations. For 10 years he has done improvement in Rohatgi Senior Secondary School Chowk Raiji, Delhi on the post an efficient administrative manager. He was died on 2 May, 2006. Rohatgi community will never forget his contribution and sacrifices.
He was born in 1909. He was a cloth businessman. He worked as a treasurer in Rohatgi Trust and Rohatgi School. He helped in changing the name of trust from Rohatgi Academic and Religious Society (रोहतगी शैक्षिणिक अवं धार्मिक सोसाइटी) to Rohatgi Charitable Trust with the collaboration of other trust members. He was died in the year 1995.
Sh. Krishna Gopal Rohatgi
He was born on 17 August, 1924 and was the son of Sh. Raj Narayan Rohatgi. He was a brilliant student and got the degree of graduation, M.A from the Hindu College. He started his social, philanthropic and political career started during his college days. During his studies he was on the post of president for three years in college campus and provide many facilities for the students. He worked as a manger and secretory post in Rohatgi School and Rohatgi Charitable Trust. He also worked as a manager in Delhi Co-operative bank limited. He also holds the post of president in Sh. Dhaarmik Raam Leela Committee, Gandhi Ground. He died at the age of 76 on 24 May, 2006. He was also an active member of custom advisory committee in Indian Government.
He was also known by the name Lallu Ustaadji was born in 1867. He was interested in swimming in the Yamuna river since his childhood. He gained unique versatility in swimming when he became young. He established the "Jugla Singh swimming federation" at "Rohatgi Ghaat" near the Yamuna river in the memory of his teacher Sh. Jugla Singh in 1990. The main motive of this federation was to teach swimming to youngsters in Delhi. Sh. Lallu Mal Rohatgi was the manager of this federation. After he died in 1962, his son of his Sh. Gauri Shankar was honoured with the title of Ustaadji.